---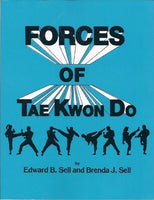 Interactive Forces of Taekwondo E-Book
Interactive, groundbreaking training to take YOU to a new level of excellence in your Taekwondo training. Great training aid for parents to work with their children.  
Ten chapters Videos, audio, and text with Sr. GM Edward & Brenda Sell.  Live seminars teaching the practical and theory of Taekwondo Excellence. 
Chapter 1 One INTRODUCTION TO Taekwondo, History

Chapter 2 Two PROFILE OF AN AMERICAN Taekwondo Master and Legend

Chapter 3 Three SIX PARTS OF A TKD CLASS: stretching, fundamentals, forms/Poomsae, one step sparring, freestyle sparring, conditioning

Chapter 4 Four SPARRING and SELF DEFENSE

Chapter 5 Five US CHUNG DO KWAN ASSOCIATION

Chapter 6 Six WOMEN IN Taekwondo

Chapter 7 Seven THE ART OF DEMONSTRATING 

Chapter 8 Tournament Competition

Chapter 9 Nine SELF TRAINING PROGRAM 

Chapter 10 Ten DEVELOPING THE SPIRIT SOUL and BODY
Great training resource that should be in EVERY martial arts library. Many of the videos have never been publicized until now!  Don't miss this great opportunity.